Welcome to Gaughan Bee Dancin', LLC

Hi. We are Kristopher and Evona Gaughan and we live in Medina, Ohio. We have two acres which provides plenty of room for our apiary. Our business was started in the summer of 2010 when we realized just how much of a benefit our bees were for our garden. We grow heirloom vegetables and all of our crops are grown without the use of pesticides or harsh chemicals. We believe there are too many of these chemicals in the food chain already and there really is no substitute for fresh vegetables grown the way mother nature intended. We raise honeybees and don't want them exposed to chemicals either. They are a vital part of the ecosystem, and when they're in trouble that means humans are in trouble also.
I was reading a gardening book at work one day when a coworker suggested I get a beehive to pollinate my garden. It sounded like a good idea so I started reading up bees and ended up with three colonies our first year. We turned it into a cottage industry and started selling not just honey, but many beneficial products from the hive and also some naturopathic/holistic remedies not made by the bees.
We get a lot of questions from people who are interested in setting up their own hive. We sell a beginner beekeeper's kit which includes woodenware and tools. We also carry other common beekeeping equipment and are constantly adding items to our inventory. Use the Contact Information page and I'll be glad to answer any questions you have. Check our schedule for beekeeping 101 seminars at various libraries and garden centers to learn more about beekeeping. I would also recommend attending beekeeper's meetings to learn more about the subject to decide if it's something you would really like to commit to. You can contact Medina Beekeeper's Association at:
http://www.medinabeekeepers.com/index.php?title=Main_Page
. This is a really good organization that holds their meetings at the A.I. Root Company. I am currently the Vice President of Tri County Beekeeper's Association
http://www.tricountybeekeepers.org/.


We sell a variety of products including honey, propolis, pollen, royal jelly, herbal tinctures, colloidal silver, beeswax candles, lip balm, greeting cards, and heirloom seeds. We attend the Frostville Farm Market in North Olmsted throughout the summer and I also bring beekeeping supplies there, in addition to selling out of our house in Medina. If there is anything you would like to see, any questions you might have, or wish to purchase any products, please use the Contact Information page. We will respond as quickly as we can.
If you would like to receive updates on new products and upcoming events, please use the Contact Us page and send Evona your name and email address. We respect your privacy and will not sell or give away your information, and we promise not to bombard you with spam. You can also follow us on our Facebook page:
https://www.facebook.com/GaughanBeeDancinLLC/
Package Bees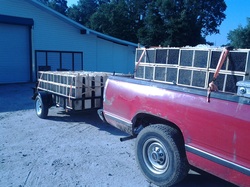 We have two estimated delivery dates for Italian honeybees this year, April 24th and May8th. The packages of bees are $120.00. All packages are three pounds and include a queen. Italian queens are also available for $32 each.
Packages of bees and queens must be paid for in advance to reserve your bees. We accept cash and checks.
To Order you can:
Call Evona 440-801-1476
E-mail
evona@neo.rr.com
Remit payment payable to Evona Gaughan and mail to 6940 Wadsworth Rd. Medina, Oh. 44256. I will mail a receipt for payments received.
---
Need a speaker for your group or organization?
| | | |
| --- | --- | --- |
| | Kris gives talks on bees and beekeeping, Evona is very knowledgeable about health and nutrition. We have spoken to garden clubs, Christian women's groups, public libraries, activist groups, and at garden centers. If you would like us to speak to your group, please call Evona at 440-342-2610 for rates and availability. | |
Upcoming Events in 2016


Beginning beekeeping is a 90 minute crash course on the first year of beekeeping. Learn the terminology of equipment and how to install a package of bees into their new home. You will learn how to do a hive inspection and what to look for during the inspection.


Beginning Beekeeping
Saturday February 27, 2016 2:00-3:30
Elyria Public Library
320 Washington Ave.
Elyria, OH 44035
440-322-0469
We will be Selling Products at this event such as honey, honey sticks, bee pollen & bees wax lip balm.


Beginning Beekeeping
Saturday March 12, 2016 11:00-12:30
Wolf Creek Nature Center
6100 Ridge Rd.
Sharron Center, OH. 44274
330-239-4814 RSVP IS REQUIRED


Honeybee Decline & the Movement to Save Them
Have you ever wondered why the honeybees are dying? Do you contemplate the importance of the honeybees to our eco system and food supply? Are you curious about what you can do to help save the honeybees? Join Kris and Evona with Gaughan Bee Dancin' to learn the answer to these important questions.
Thursday April 7, 2016 7:00-8:00
Wolf Creek Nature Center
6100 Ridge Rd.
Sharron Center, OH. 44274
330-239-4814
Please RSVP to the Nature Center. If we don't get enough people registered, the lecture will be canceled.
We will be Selling Products at this event such as honey, honey sticks, bee pollen & bees wax lip balm.


We cannot sell at these events unless otherwise noted. If you would like to purchase any of our products including beekeeping supplies, please call us to place an order and we will bring your order to the desired talk. A phone number is provided as the libraries would appreciate an RSVP.


We also set up shop at the Frostville Farm Market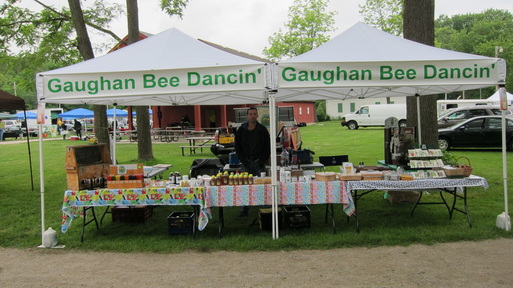 ---